2017 Toyota Yaris Introduction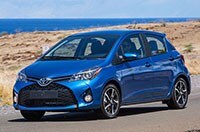 Mildly redesigned for 2015, the subcompact Yaris is Toyota's smallest and least expensive car at U.S. dealerships. For the 2017 model year, Toyota has added a trio of Safety Sense advanced features to hatchback models, including lane departure warning, forward collision warning, and automatic high beams. Otherwise, little has changed on the three- and five-door hatchbacks.
However, a new model, the Yaris iA sedan, joined the lineup for 2017. Formerly known as the Scion iA, the Yaris iA sedan is based upon the Mazda2 (no longer sold in the U.S.). Just one version of the iA sedan is offered, and it is more aggressively designed than Yaris hatchbacks and is more refined.
Designed and built in France, the Yaris hatchbacks come in L, LE, and SE trim levels. Yaris L and LE versions come in three- and five-door form; Yaris SE is five-door only.
Engines are similar for the two body styles, but transmission choices differ sharply. Hatchbacks hold a 106-horsepower, 1.5-liter four-cylinder engine that provides 103 pound-feet of torque. It's mated to either a 5-speed manual gearbox or an ancient, outmoded 4-speed automatic transmission. Sedans contain a similarly rated 1.5-liter four, paired with a 6-speed manual or 6-speed automatic. Yaris LE hatchbacks come with 6-speed automatics.
In hatchback form, the Yaris is a traditional subcompact, delivering budget-priced transportation and good gas mileage, but little else. Performance, as expected, ranks as modest, though what Toyota claims is a "class-leading" 31.5-foot turning circle helps with agility. Base L models retain rear drum brakes, but others get four-wheel discs.
Significantly more refined, the Yaris iA sedan is more enjoyable to drive than any hatchback. Gas mileage is reasonably good either way, though not top-of-the-class for subcompacts.
The new trio of standard driver-assistance features improves the Yaris hatchback's safety stance, though crash-test scores aren't unblemished. The National Highway Traffic Safety Administration gave the hatchback four stars overall. Hatchbacks also earned Good scores from the Insurance Institute for Highway Safety, except for Marginal in the small-overlap frontal crash. Sedans got Good scores from IIHS, but Poor in the new headlight test; the iA was declared a Top Safety Pick.
Hatchbacks do not include a rearview camera, but the iA sedan does. Lane-departure alert and automatic high beams are not included in the sedan, and its automatic braking operates only at lower road speeds.
A redesigned Yaris hatchback will arrive as a 2018 model.