2017 Toyota Sequoia Introduction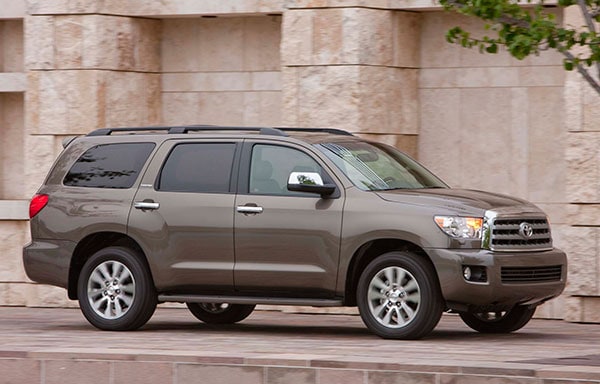 The Toyota Sequoia is a full-size SUV with three rows of seating, with rear-wheel drive or four-wheel drive. It's traditional in that it's based on a pickup truck, in this case the Tundra; its structure is body-on-frame, in no way a crossover.
Sequoia was a star when it came out in 2007, but it's been a decade with few changes, which makes the 2017 Sequoia very dated compared to the competition, namely the redesigned GM models: Chevy Tahoe and Suburban, and GMC Yukon and Yukon XL.
It's the cabin where the Sequoia feels most behind the times, with leftover plastic materials and lack of features like pushbutton start and USB ports. However only the Sequoia has a power rear window in the liftgate, a nice convenience.
The Sequoia uses the Tundra platform, but its ride is smoother and handling a bit better. There is just one engine, the trusty GM 5.7-liter, here making 381 horsepower 401 pound-feet of torque, mated to an old-school six-speed automatic. The Sequoia doesn't offer any rugged offroad equipment, because the Toyota 4Runner and Land Cruiser cover that so well, and also have three rows of seating available.
With fuel mileage of 15 miles per gallon combined (14 mpg with 4wd), the Sequoia lags even farther behind the times. Its six-speed automatic is fine for transmission duties, maybe even better than some high-tech trannies like the Ford 10-speed, however the main reason for more gears nowadays is fuel mileage. The Sequoia may be bombproof simple, but it pays at the pump. The EPA rates it 13 mpg city and 17 mpg highway for 15 combined.
The 4WD Chevy Tahoe gets 18 mpg combined, and uses a fuel tank of the same size, 26 gallons, so its range is about 468 miles compared to the Sequoia's 364 miles.
The Sequoia hasn't been crash-tested by the feds or insurance people. However one good point is the many airbags: two-stage front bags, knee bags and side bags in front, and roll-sensing side curtains for all three rows. Rearview camera is standard, but auto emergency braking isn't available.
The Sequoia can tow a big boat, but compared to the Toyota Highlander crossover, it's less people friendly.