2013 Toyota Sienna Introduction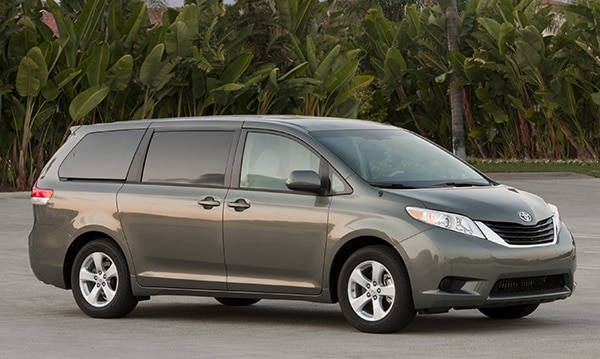 The Toyota Sienna is a transportation solution for moving up to eight people and it does that well. It's also versatile as a cargo mover, with flexible interior configurations for any combination of passengers or cargo.
Sienna excels in second-row passenger comfort and cargo flexibility. The second-row seats are mounted on very long sliders, so they can be moved far forward or far back, depending on the way the interior needs to be configured for people or cargo. With the second-row seats adjusted to the rearward limit, a walk-in isle is created, big enough for an adult to walk through to help a child or an older passenger. With the second-row seats adjusted all the way forward, walk-in access to the third row becomes possible. With the third row folded flat and the second row removed, Sienna offers a cavernous 150 cubic feet of cargo space, more than most SUVs offer.
This fifth-generation Toyota Sienna was introduced for the 2011 model year. Toyota has made only minor changes since then, mostly upgrades to standard equipment and options.
The 2013 Toyota Sienna is available in five grades, with seating configurations for seven or eight. There are models aimed at practical transportation, models driven by luxury tastes. The sporty Sienna SE sits lower than the other models, on a sport-tuned suspension, with its electric power steering tuned for quicker response and better feedback, and it drives and handles more like a sports sedan. At the opposite extreme is the luxurious Sienna Limited, which has the nicest interior, and low-effort steering tuned for ease of operation, with high levels of power assist. That makes the Sienna Limited easy to park and maneuver at low speeds, but it also requires more attention to keep in the center of the lane when driving quickly. Sienna LE and Sienna XLE models are somewhere in between, with steering and chassis priorities balanced 50/50 between comfort and handling.
All Sienna models are powered by a 3.5-liter V6 rated at 266 horsepower and come with a 6-speed automatic transmission. Front-wheel drive is standard, all-wheel drive is optional. The V6 runs smoother at highway speed, with more reserve power for passing. Fuel economy is rated by the Environmental Protection Agency at 18/25 mpg City/Highway.
The Toyota Sienna is made in America, designed in California, developed at Toyota's technical center in Ann Arbor, Michigan, and assembled in Indiana.