2013 Toyota RAV4 Introduction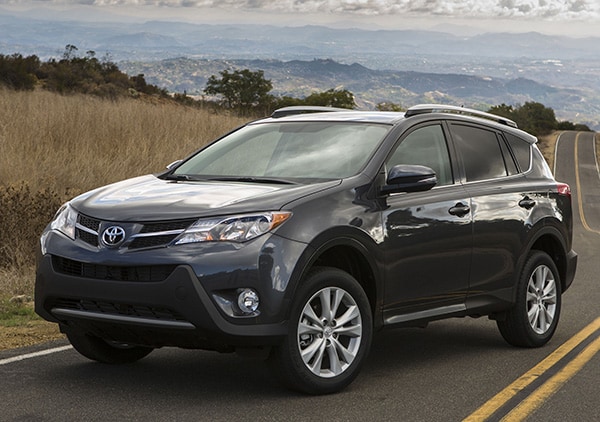 The fourth-generation Toyota RAV4 arrives for 2013. While the 2013 RAV4 may look a touch better than the outgoing model, and drive better too, in true Toyota fashion it remains remarkably vanilla.
The RAV4 was introduced to the U.S market back in 1995 as the world's first crossover SUV. Since then, three progressive generations have been developed, including the current generation 2006 RAV4. Light cosmetic surgery has been performed during this last generation's reign, but the all-new fourth generation has been totally reborn.
For 2013, RAV4 loses its third row seating due to a lack of demand, as well as ditching the more powerful V6 engine option, again due to a low take rate, with customers favoring the more efficient 2.5-liter four-cylinder engine.
That engine remains, boasting 176 horsepower and 172 pound-feet of torque. A 6-speed automatic has replaced the four-speed automatic transmission; with the top two cogs being used as overdrive gears to aid fuel efficiency.
Fuel economy has been increased throughout the board with City/Highway/Combined EPA rating 24/31/26 miles per gallon with front-wheel drive (compared to 22/28/24 mpg for the pre-2013 RAV4) and 22/29/25 mpg for the all-wheel-drive 2013 RAV4 AWD (21/27/24 mpg for the outgoing model).
The 2013 RAV4 exterior receives tweaks in an effort to create more emotion and lust. The spare wheel is no longer stored on the tailgate but in the more commonly used location under the trunk floor. Despite the changes, it still looks remarkably uninspiring and bland.
The 2013 RAV4 interior gets some nice upgrades, including a SofTex leather band that runs the entire width of the dash. While the feel doesn't scream luxury, it does stack up well against the competition, and comfort is good too.
On the road, the 2013 RAV4 is nice step forward in terms of handling. It's feels far firmer and planted than before. The steering feels a touch rubbery, but braking is good. Despite the improvements, the car still fails to engage the driver. It's better, but not fun.
Overall, the new 2013 RAV4 is a solid improvement over the outgoing model. But it is still a means of transportation, and not a vehicle that you will particularly enjoy driving. It is, however, practical, efficient and competitively priced (starting at $23,300), making it a car that will sell like a Lightning McQueen toy at Christmas.