2013 Toyota Matrix Introduction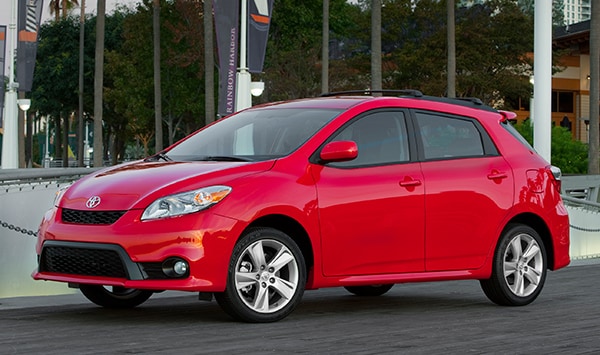 The Toyota Matrix offers utility in a compact package with two engine choices and optional all-wheel drive. Developed in tandem with the Corolla sedan, the Matrix is essentially the five-door hatchback wagon version of the Corolla. Matrix makes loading kids, dogs and miscellaneous cargo a cinch. It can carry four big people or haul lots of cargo with the rear seats folded flat.
An aging design and ho-hum fuel economy make the Matrix a less compelling choice than in previous years, especially with many new, more efficient hatchbacks on the market.
This second-generation Toyota Matrix was launched as a 2009 model. For 2011, Matrix was freshened with new wheels and minor changes to interior trim and a Smart Stop Technology brake-override system was added as standard equipment. The 2013 Matrix L gets new audio systems on both trim levels. The 2013 Matrix now comes standard with a six-speaker sound system with CD player, satellite radio capability, auxiliary audio jack and USB port, while the 2013 Matrix S uses a premium sound system with 6.1-inch touchscreen.
The 2013 Matrix is available in two grades: base Matrix L and the sportier Matrix S. The base L comes with a 1.8-liter engine mated to a 5-speed manual or 4-speed automatic. The Matrix S gets a more powerful 2.4-liter engine, with a choice of a 5-speed manual or 5-speed automatic. All-wheel drive is optional on the Matrix S.
By price and hatchback design, Matrix competes with other compacts such as the Ford Focus hatchback, Honda Civic, Hyundai Elantra GT, Mazda3, and Volkswagen Golf. Those shopping for a wagon with all-wheel-drive might also consider the Subaru Impreza wagon.
Fuel economy for the 2013 Toyota Matrix is an EPA-estimated 26/32 mpg City/Highway for a base Matrix L (1.8-liter) with manual gearbox and 21/29 mpg for a Matrix S (2.4-liter) with 5-speed automatic. The all-wheel drive Matrix S gets a mediocre 20/26 mpg City/Highway. By way of comparison, the all-wheel-drive Subaru Impreza wagon achieves an EPA rating of 27/36 mpg city/highway with its 2.0-liter engine.
For the best combination of fun and efficiency, we recommend the 1.8-liter Matrix L with the 5-speed manual gearbox. The base engine isn't as powerful as the one found on the S, but we found it revs more freely and is more of a driver's engine. However, if driving stick isn't your thing, we recommend the 2.4-liter engine with the 5-speed automatic.
Check out the Matrix if you want the reliable reputation of the Corolla with more cargo space or if you need an affordable urban runabout. The Matrix isn't a standout, but it's practical and economical.